Make your body thinner & your butt bigger in the same procedure. The Brazilian Butt Lift – also referred to as BBL – has become one of the most popular procedures in San Diego today. Dr. Steve Torres, a 15-year ER doctor, is Southern California's leading expert in BBL treatments.
What is a Brazilian Butt Lift?
The Brazilian Butt Lift is comprised of two parts. First, we harvest fat from undesirable places on your body in a process commonly known as liposuction. Second, we immediately transplant that fat back into your buttocks to help you achieve a more ideal shape. Because it's your very own fat, it's an extremely natural way to achieve desirable results with the added benefit of becoming more slender in your unwanted areas as well. During this process we use a tumescent numbing technique combined with nitrous oxide which makes the procedure very comfortable. This allows you to be awake throughout the entire process, making it one of the easiest and safest body enhancing procedures.
Fat is harvested from all of your stubborn areas using a 3mm suction cannula. The most common areas for fat removal are the stomach, flanks, bra fat, arms, and thighs. The fat is collected into a sterile container, processed, then injected into the buttock to enhance its projection, lift, and to combat those hip dips.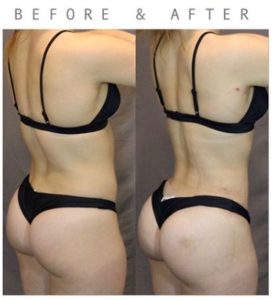 How painful is a butt lift?
The most discomforting part is the very beginning during the tumescent phase. This process lasts approximately 30 minutes and with nitrous oxide, most patients get through this with only mild discomfort. The second phase is the suction or fat removal stage. This is by far the easiest stage. Most patients watch TV, or use their phones and check their social media accounts. The last stage is the fat transfer. We inject additional numbing solution into the area prior to injecting the fat. Most patients feel just moderate pressure which is short lived.
What is tumescent?
Tumescent is a solution of saline, lidocaine, and epinephrine. Liposuction using tumescent allows you to be fully awake during the entire procedure. The epinephrine is also a very potent vasoconstrictor which minimizes bruising.
Why is using fat better than implants?
The benefit of using your own fat as a filler, as opposed to an implant, is that it's extremely natural. It's YOUR fat that is being harvested from your own body, therefore the end result is a drastically more natural appearance and more natural feeling that you will enjoy for years to come. Alternatives, such as implants, may not look or feel as natural, especially as the body ages and the tissue surrounding the implant becomes looser.
*Legal disclaimer: Individual results may vary. Skin and Skinnier is not legally permitted to make any guarantees through this website.