Dr. Steve Torres, MD, is a 15-year ER doctor who personally performs EVERY dermal filler injection on his patients. Not all injectors in San Diego are equally qualified  – trust your face with Steve!
DERMAL FILLERS
Juvéderm® and Restylane® are a family of fillers that are made of hyaluronic acid (HA). HA is a natural substance in the skin that delivers nutrients, helps the skin retain moisture and softness, and adds volume. As we age, we naturally lose hyaluronic acid. This contributes to the loss of facial volume and structure. Injecting dermal fillers into skin folds and wrinkles helps to replace that structure and volume.
Note: Please visit our lip augmentation page or cheeks, chin, and jawline page if you're seeking information about fillers for those particular areas.
WATCH DR. TORRES PERFORM DERMAL FILLERS:

The results from dermal fillers can be seen immediately and depending on the type of filler can last on average from 6 months to 2 years.
Applications:
Lip Augmentation
Cheek Augmentation
Nasolabial Folds
Tear Trough
Wrinkle Reduction
Chin Augmentation
Non-Surgical Nose Job
Non-Surgical Jowl Lift
Non-Surgical Face Lift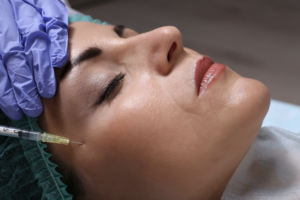 Dr. Torres prides himself on performing EVERY injectable at Skin 'n Skinnier. As an artist and perfectionist, he has made himself a name as the most trusted injector in San Diego / La Jolla. "My extensive knowledge of facial anatomy and procedural skills, combined with my keen visual artistic sense enables me to make the procedure less painful, reduce the chance of bruising, and have you leave our office feeling more beautiful and confident" – Dr. Torres
*Legal disclaimer: Individual results may vary. Skin and Skinnier is not legally permitted to make any guarantees through this website.